LAP RACE SERIES
In 2012 LAP started a Race Series based on Age-Graded Scoring. Age-Graded Scoring allows all individuals within a race to be "scored" against each other. That is done by first comparing the individual's finish time at that particular race distance to the "world record" achievable for that individual's age and gender. Every year, at the conclusion of the LAP race season, the average of all Race Series-eligible participants is calculated and awards are made to the top 10 runners at the LAP Annual Meeting.
***YOU MUST BE A LAP MEMBER TO PARTICIPATE***
---
Congratulations 2017 Race Series Winners!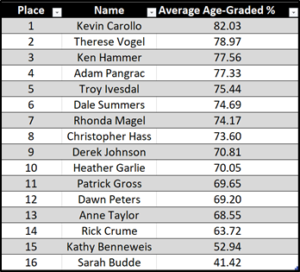 ---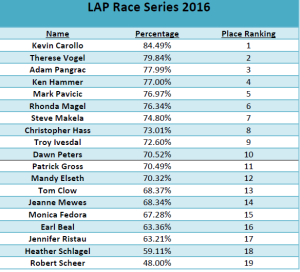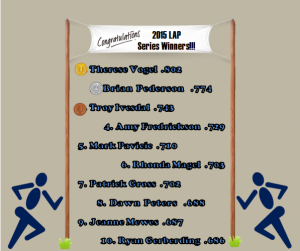 2014 Race Series Winners
2014 Age-Graded Results
1st – $100 – Benjamin Melby
2nd – $90 – Steve Makela
3rd – $80 – Therese Vogel
4th – $70 – Keith Lehman
5th – $60 – Ken Hammer
6th – $50 – Troy Ivesdal
7th – $40 – Mark Pavicic
8th – $30 – Brian Pederson
9th – $20 – William Richardson
10th -$10 – Patrick Gross

2013 Race Series Winners
2013 Age-Graded Results
1st – $100 – Kevin Carollo
2nd – $90 – Ken Hammer
3rd – $80 – Therese Vogel
4th – $70 – Steve Makela
5th – $60 – Adam Kne
6th – $50 – Scott Carlson
7th – $40 – William Richardson
8th – $30 – John Peterson
9th – $20 – Todd Hochstetler
10th -$10 – Mark Pavicic

2012 Race Series Winners
2012 Age-Graded Results
1st – $100 – Ken Hammer
2nd – $90 – Therese Vogel
3rd – $80 – Mark Pavicic
4th – $70 – Scott Carlson
5th – $60 – Troy Ivesdal
6th – $50 – Steve Makela
7th – $40 – Patrick Gross
8th – $30 – Todd Hochstetler
9th – $20 – Mark Landman
10th -$10 – Tom Clow