2018 LAP Races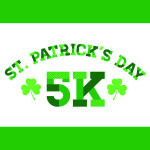 St. Patrick's Day 5k & 10k
Saturday, March 17th, 2018; 2:00pm Start Time
Location: Fercho YMCA, Downtown Fargo
The Lake Agassiz Pacers St Patrick's Day 5K has been a staple running/walking event in Fargo for many years.  We are adding a 10K run to the agenda this year for those of you that want bigger challenge. Both events will run up Broadway to kick the St Patrick Day parade off.  Get your "Green" on and come downtown for a great time.  This event will cover city streets and local bike paths starting at the South end of Broadway and finishing just a block South in Island Park.  The Pacers will host all participants after the events for some food, drink and awards ceremony.
Red River Run 5k & 15k


Saturday, June 9th , 2018; 8:15am Start Time

Location: Clara Barton Elementary

It's time for the Annual LAP  Red River Run. Choose from a 5K Run/Walk, or 15K Run.  The Annual Red River Run has been hitting the streets & paths of Fargo for over 40 years.